The UseROSS Dashboard will be the first page you see when you log-in to UseROSS. It will give you a snapshot of your channel manager and all activity on it.
Help Hint: Click on
 to view more information about that area.
---
Unread Messages:
If you have any unread messages a link will appear at the top of the dashboard.

---
Channel Status:
This displays which channels you are currently connected to. If there is a

 then the connection to the channel is all working correctly. A

 indicates the connection is not active, either because of Service Interruptions, which will also have a message in System Notifications, or because the channel hasn't been synchronised after connecting. Please see the Channels page for more information about synchronising channels. The information will refresh when you visit the page, but you can also click the refresh button to do that 


---
Top Channels 30 Days:
The Top Channels will show you the number of bookings received from each of your channels over the past 30 days.

---
System Notification:
This will display any information from UseROSS. Examples include if there are updates to UseROSS, service interruptions, changes to channels, or general information.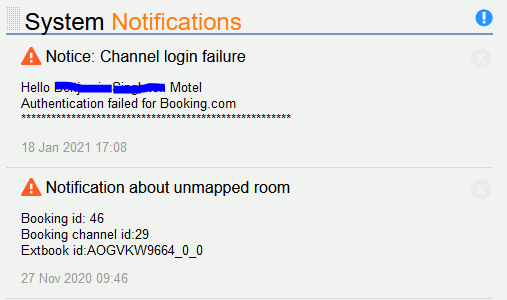 Please check the system notifications regularly as this is the main method of communication to UseROSS members.
---
Booking Received:
This will give you figures of bookings your property has received in UseROSS today, over the last 30 days, and for all time.

---
Arriving Today:
This will show you the guests scheduled to arrive today.

---
Latest Messages:
Messages sent from UseROSS to you will appear in here.