Search:
The search allows you to search or filter through all bookings you've received. You can filter by channel, room, the dates the guest is staying at the motel, or a combination. To search enter the data to the relevant field and click search.

---
Room Bookings:

Room bookings lists the bookings you have currently stored in the UseROSS system.
To add a new manual booking (not from a connected online channel) into UseROSS click on Add Booking. See booking page below on how to Add a booking manually.
Legend will display a popup image with what the booking background colours and icons stand for
To completely refresh all rates and information on all channels click on Manual Sync. This will take roughly 10 minutes to complete. UseROSS will automatically update all changes as they are made as well as a complete sync once a day, so please only use this when necessary.
This will remove cancelled bookings from displaying in the Bookings List. Check it to hide the cancelled bookings, uncheck it to have them display again.

---
Bookings Table:
To view more information about any booking click anywhere on the booking.
Column names:
Created Date – The date the booking was entered into UseROSS
Arrive Date – Date the guest is scheduled to arrive
Checkout – Date the guest is scheduled to depart
Nights – Length of stay
Room Name – Name of the room on UseROSS
Guest Name – Name of the guest
Channel – Where the original source of the booking is from
Booking Value – Amount the booking is for.
eVoucher Status – Displays the status of the UseROSS DDS (Direct Deposit System) bookings.
All columns are sortable if you click on the Column Name. In the example below you can see the arrow in Arrive Date, which indicates this table is currently sorted by the Arrive Date from closest to future bookings. To reverse the order simply click on the column name again.

---
Booking Page:
If you are adding a booking manually into UseROSS you will need to fill out the information on the Add Booking page, and click the 'Add Booking' button at the bottom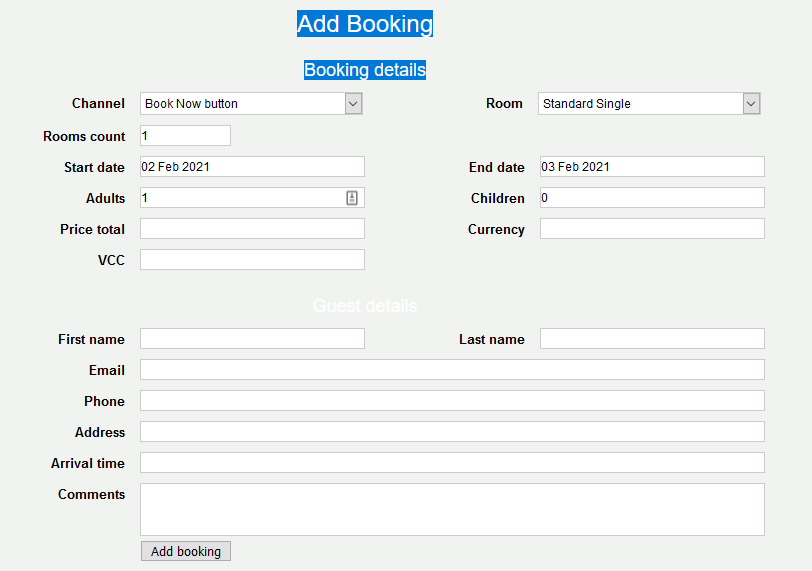 ---
Legends for Bookings Page
| | |
| --- | --- |
| | The Booking was Modified |
| | The Booking has only been Cancelled. |
| | The Booking is Highlighted when your mouse is over a booking. |
| | The Usual color for a Booking. |
| | The guest has paid at the time of booking. |
| | A payment request has been made for the booking. |
| | Full Payment has been made to the motel. |
| | A Partial Refund has been processed. |
| | A Full Refund has been processed. |
| | The Booking Price has decreased compared to the original booking amount. A refund may be required. |
| | The Booking Price has increased compared to the original booking amount. You may need to charge the guest extra on arrival. |
These legends may change with time.